---
- Enrollment surprises us - demand, even for a new center, is strong.
⇨

news: BLOG: "Food For Thought"⇦




... More comments from social media:

from
R. T.: "It's all coming together so nicely! You must be so excited. We're excited for you."
23 hours ago

from
C. H.:
"Tom!  Thanks so much.!  I wish you and Susan all the best in your venture!  I wish we had you all right here in Winnipeg."
August 25 at 9:39am

from
D. W.: "Congrats! We need more caring souls like that. My granddaughter had a great and loving head start with Montessori in Colorado Springs. Best wishes."
17 hours ago

from
H. B.: "Dear Susan and dear Tom, wish you a good journey with this project!!"              
Yesterday at 12:21am 

from
M. F. F.: "Wonderful! I am one of Montessori's children! I went to a Montessori Center myself! All my best wishes to you!  
August 15 at 6:39am 

from
G. P.: "Wish you success, great thing to do!"
August 14 at 4:01pm
---
A safe, nurturing, vital learning Space for the very young
Apply well-known principles that enhance children's growth. Sources: Montessori and RIE.
Take advantage of windows of opportunity for this age group, for cognitive, math, literacy, motor, and social-emotional development.
Share these developmental principles with families.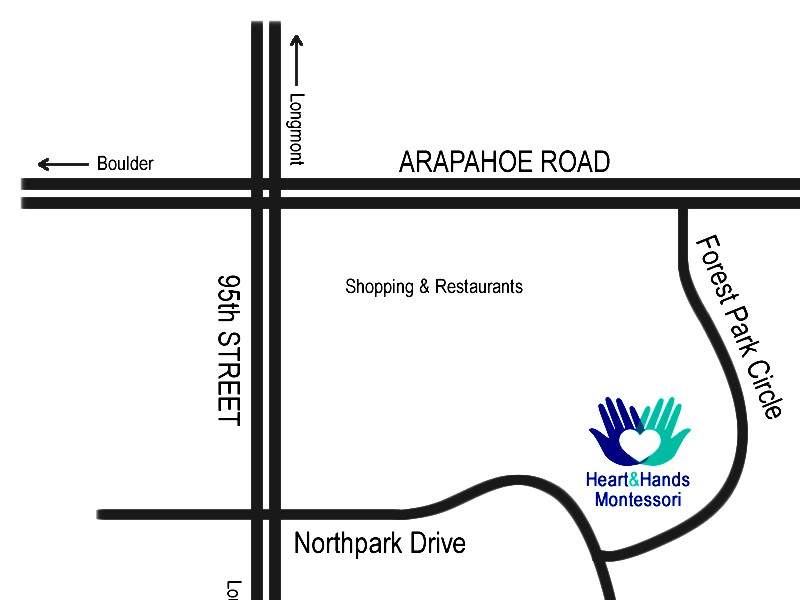 Why are we unique to Boulder County?
Comprehensive support to child's development.
Safe, with space to move (no playpens, walkers or containers).
Aesthetically pleasing: soft light, natural fibers & materials.
Priority: our trained staff members implement a well-developed & successful program (Montessori and RIE).
See our BLOG: "Food For Thought"

Our Center is Under Construction

.... Progress means getting nearer to the place you want to be ....

Construction is finishing up, renovation is expected to take another 2-3 weeks.  We will keep you posted on our blog.  In the meantime consider registering for an early fall opening.  Thanks.